Success stories
PROSERVE AUTOMOTIVE
Brenham, Texas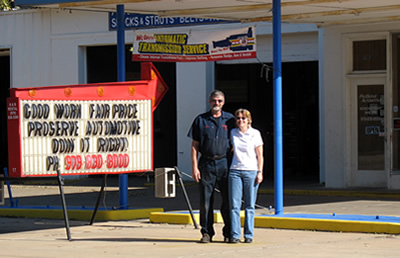 "Not only did our consultants help us with feasibility, projections and financing but they continue to provide marketing help and education…..always with excellent, friendly service!"
Robyn Wall, Owner
Congratulations to ProServe Automotive on their second-year anniversary. Owner Robyn Wall and Auto Technician Dean Wall opened ProServe Automotive in June of 2008. They had owned an auto repair business before and wanted to start another but, for whatever reason, it just didn't get off the ground.
Things changed one day in March of 2008, when Robyn's local banker suggested that she talk to the folks at the Small Business Development Center (SBDC) at Blinn College. That's exactly what she did.
The SBDC was able to get a clear picture of the business venture and helped develop a plan of action to make it a reality. Because of Robyn and Dean's prior business experience, they were very knowledgeable in the industry. Their biggest obstacle was the most common one for new businesses: financing.
The SBDC discussed options with them, decided together on a lender, and followed through with the application. The SBDC helped with the development of a business plan, financial projections and preparation of a complete loan package to take to the bank. It was successful and the Walls got their financing!
Robyn and Dean opened their business and have not looked back since. Business is good, they love their customers and their customers love them. They look forward to growing their business and the SBDC at Blinn College will continue to give assistance as it is needed.