Small business library
The Blinn College SBDC has a small reference library of books on business topics, and start-up manuals for many types of businesses. The public may use our reference books during office hours, and clients may check out selected books for two weeks at a time. (Start-up manuals require a deposit of $25.)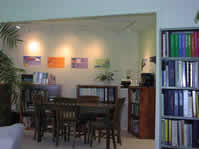 Additionally, as an SBDC client, you are eligible for business information services, including access to our network's business library--a comprehensive research and reference library offering extensive online and print business tools and resources--and general reference assistance in conducting industry and market research.
Reference services
We will give you help and direction in collecting industry or market statistics needed for a business or marketing plan, researching specific market or industry trends, and identifying competitors, suppliers or potential customers.
Customized research services
Through our professional business librarian, we access on-line business reference sources to research, collate and present you with information, including in-depth industry and market research, detailed reports on competition, ring study capabilities for comprehensive site analyses, and access to specialized databases for targeted market research.
Online resources
http://www.entrepreneur.com/ – articles and startup information on several businesses
http://www.sba.gov/starting_business/ – SBA start-up information
http://www.houstontx.gov/onestop/ – Getting Started Packet
Business and Market Research
http://www.census.gov/ – U.S. Bureau of the Census, extensive statistical data
http://www.econdata.net/ – Links to regional statistical data
www.adage.com/americandemographics – Demographic articles
http://www.maritzreserach.com/ – American consumer surveys
http://www.emarketer.com/ – Stats on e-commerce
http://www.internetnews.com/ – Internet stats
http://www.zapdata.com/ – Prospect lists, company research, industry reports
http://www.buyusa.com/ – Find non-U.S. importers and buyers seeking U.S. sources of supply
Business Plans
http://www.bplans.com/
www.businessplans.org/
www133.americanexpress.com/
www.planware.org/
County Information
Call or come in if you'd like an Entreprenuer's Start Up Guide for one of these counties:
Washington County
Austin County
Colorado County
State Information
Alcoholic and Beverage Commission – http://www.tabc.state.tx.us/
Commission on Environmental Quality –http://www.tceq.state.tx.us/
Comptroller of Public Accounts -- http://window.state.tx.us/
Department of Insurance -- http://www.tdi.state.tx.us/
Family and Protective Services (child care) http://www.dfps.state.tx.us/
Governor's Office – Economic Development and Tourism – http://www.governor.state.tx.us/divisions/ecodev/sba/
Secretary of State (incorporation) – http://www.sos.state.tx.us/
TX Online-TX at your Fingertips – http://www.texasonline.state.tx.us/
Workforce Commission -- http://www.twc.state.tx.us/